Air Conditioning Installation and Repair
Valley Comfort Heating and Air is a family-owned and managed company, serving residential and business customers in the Santa Rosa, Napa and Sonoma County areas. Owner Bryan Simning grew up in the area and understands the special cooling needs of Northern California home and business owners. We offer the following AC services:
Air Conditioning Service & Maintenance
Air Conditioning Repair
Air Conditioning Installation
To learn more about the benefits of air conditioning as well as the most important aspects of an air conditioning service please click here.
Santa Rosa Air Conditioning Maintenance
When it comes to Santa Rosa air conditioning maintenance, keeping your air conditioning system well maintained is essential to getting the maximum life out of the unit. We service all makes and models of cooling systems. Our A/C service technicians are factory trained, courteous and dependable. We offer a 10 percent senior discount on A/C service calls as well as a variety of service agreements, so you'll know exactly what you'll be paying for your annual maintenance call. If you'd like to schedule a spring check-up for your air conditioning system, call us at 707-623-1417 in Sonoma County or 707-927-1678 in the Napa area.
24/7 Dependable Santa Rosa Air Conditioning Repairs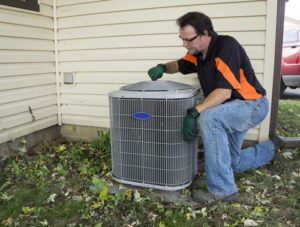 Residents in Santa Rosa and Napa Valley know the summers can get steamy. It's no time for your air conditioning system to stop working. Our factory-trained air conditioning repair and service technicians are available 24 hours a day, seven days a week. We are a Bryant factory-authorized dealer, but we work on all makes and models of cooling systems. We even offer a 10 percent senior discount on air conditioning service and repairs. If your cooling system isn't keeping up with the summer heat, or if it's making a strange noise, don't wait for it to stop working entirely. You may need simple repairs and not have to replace your system. Let our experienced technicians take a look and evaluate the problem. If you're in Sonoma County or the Napa area visit our contact us page to schedule an A/C service appointment.
Experienced Santa Rosa Air Conditioning Installation Technicians
Sometimes a repair isn't cost-effective or the problem with your cooling system just can't be fixed. If so, our A/C service technicians can install a new cooling system in your home or business without disrupting your entire household or sales floor. Our workers are factory-trained, courteous and efficient.
Interested in Air Conditioning Repair, Installation, or Maintenance? Call Today!
Napa County: 707-927-1678
Sonoma County: 707-623-1417